Hydrating Watermelon juice is the best summer coolant drink. Watermelon keeps up the body hydrated and is nutrient-rich. Watermelon juice is best for weight loss, blood pressure, asthma, heart health, pregnancy, and kidney health. Watermelon should not be taken at night time, it has little acidic and it may delay the digestion process during the inactive time. Best time to have it is at noontime. This pinky juice also contains Vitamin A, Vitamin C, Vitamin B6. Simple to make it in a few mins.
Here, I share with you all how to make the delicious pinky watermelon juice. Enjoy with your loved ones.
Learning and sharing is real happiness !!!💗💗💗
Check for more sweet Recipes :
>> Home Made Keventers Kit Kat Milk Shake
>> NUNGU MILKSHAKE WITH ICE CREAM
Watermelon juice
Ingredients
2

cups

Watermelon

2

tbsp

Sugar

Add more if u req

1/2

tsp

Lemon juice

Ice cubes

optional
Instructions
Cut the watermelon into small pieces. Discard the seeds.

Add it in the blender with ½ tsp lemon juice and sugar. Blend it well.

Strain it and serve it cool by adding ice cubes.

Fresh hydrating Watermelon juice is ready
Pictorial step by step method of Watermelon Juice:
Take 2 cups of chopped watermelon. Discard seeds and add them to the blender.
Add Lemon juice.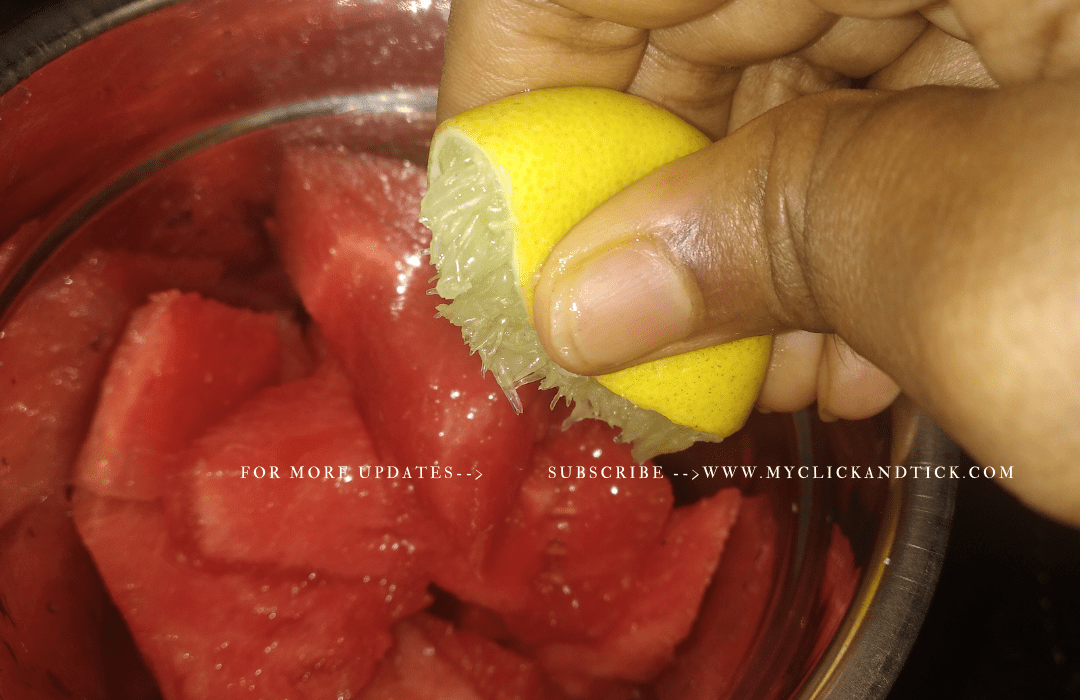 Add sugar (as you required).
Blend well and strain it.
Add ice cubes (optional) and serve it cool.
Delicious, Hydrating, Lovely Pink Watermelon juice 🍉🍹 is ready to serve.
Try it in your kitchen. Enjoy with your loved ones💗💗💗